With the end of the 2021 season as a whole for Major League Baseball coming in a few days, the Tampa Bay Rays have been hard at work getting ready for what could be a very interesting off-season.  We've already taken a look at the potential free agents the team may have, and today we examine how the team will have to empty its injured lists and which players need to be added back to the 40-man roster.
Currently the Rays have 12 players, all pitchers, who are on their 60-day injured list, which must be zeroed out after the World Series ends.
Rays To Get Added Back To Roster
2021 Opening Day starter Tyler Glasnow, who after undergoing Tommy John surgery late in the season will likely not play at all in 2022, will of course be a part of the 40-man roster when the injured list has to be zeroed out.  Many of the young hurlers that suffered season-ending injuries throughout the year will be able to be added back on, as they'll be able to take the places of players who will come off the roster upon due to being eligible for free agency.  Right-hander Yonny Chirinos and lefty Jalen Beeks, who could both be a part of the starting rotation in 2022 after rehabbing from Tommy John procedures in 2020 (though Chirinos' fractured elbow suffered in September will likely push his return until mid-season), while relievers like Ryan Thompson (shoulder), Colin Poche (elbow), and Jeffrey Springs (knee) should be major contributors in the bullpen, so all five should also be reinstated.
Rays Likely To Be Removed From Roster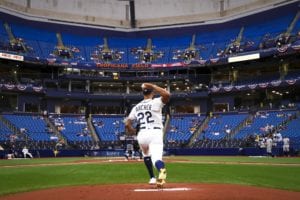 Three players will be coming off the injured list and not have to be added to the roster because they are eligible to become free agents: right-handers Chris Archer, Tommy Hunter, and Chaz Roe.  Reliever Oliver Drake, who missed all of 2021 with elbow and neck issues, could also be designated for assignment and elect to become a free agent.  And right-hander DJ Johnson, who came over to the Rays at the trade deadline but made only three appearances before suffering a sprained right shoulder, could get designated for assignment and unless he is claimed on waivers, would get outrighted to Durham.
Biggest Question Mark for Rays
Left-hander Cody Reed was acquired by Tampa Bay at the trade deadline in 2020, but missed most of the second half of the season with a finger injury, then made just 12 appearances in 2021 before being sidelined with the same injury, whch resulted in him undergoing thoracic outlet surgery.  However, Reed returned to he mound before the end of the season, making six scoreless apearances for the Triple-A Durham Bulls on rehab assignment.  If Reed is truly healthy, he could be a big piece either for the Rays or in a deal, so I'd expect him to be added to the roster.
So Who Do The Rays Lose?
With these seven potential additions back to the 40-man roster from the injured list (Glasnow, Beeks, Chirinos, Poche, Thompson, Springs, Reed), and just four open spots due to free agency (Nelson Cruz, David Robertson, Collin McHugh, Michael Wacha), it means that three players that are currently on the 40-man roster would have to come off.  Here are some possibilities: