It's the last Monday of March, and that means it's time for the final projections for the 2021 Opening Day Roster.  Every week, we've given you the 26 players we think would be on the third base line at Marlins Park in Miami on April 1.  As always, we play by a set of ground rules:
Only players on the spring roster as of Sunday will be used in the projections come Monday.
No trade predictions.  It's hard enough to try and do this with the 75 or so players in Port Charlotte.  I don't need the rumor mill to add any spice to the equation.
Injured lists are in play.  The 10-day, 15-day, and 60-day IL's are fair game when necessary.
With MLB not enforcing the 50/50 split on position players vs. pitchers, it looks like I can indeed select more than 13 pitchers to begin the year.  So (spoiler), I will.
So without any further ado, let's get the final projection going.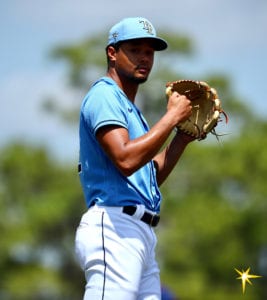 Pitchers
The two big changes in the final projection come in this group, as the 14 hurlers that will wear the sunburst.  First, the partial tear to Nick Anderson's elbow ligament will keep him out of action until at least the All-Star break, giving Andrew Kittredge a chance to begin the year back with the big club.  Secondly, the front office has decided that they will start with just one long-relief pitcher, optioning Chris Mazza, Josh Fleming, and Trevor Richards to Triple-A.  That means that not only will both Ryan Sherriff and Ryan Thompson start the year at the big-league level, but left-hander Jeffrey Springs will also get an opportunity to show what he can do.
Pitchers (14): Chris Archer, Diego Castillo, Pete Fairbanks, Tyler Glasnow, Rich Hill, Andrew Kittredge, Collin McHugh, Cody Reed, Chaz Roe, Ryan Sherriff, Jeffrey Springs, Ryan Thompson, Michael Wacha, Ryan Yarbrough
Catchers
There are just two catchers on the 40-man roster, and with Kevan Smith just now getting ramped back up from a back injury, there was little chance anyone other than Mike Zunino and Francisco Mejia would be in the dugout for Opening Day.
Catchers (2): Francisco Mejia, Mike Zunino
Infielders
First baseman Ji-Man Choi should start the year on the injured list as he tries to return from inflammation in his right knee, so Yoshi Tsutsugo will spend a lot of time taking the reps on that side of the infield, with Brandon Lowe, Willy Adames, and Yandy Diaz around the horn.  Mike Brosseau and Joey Wendle can each play multiple positions, giving the team the feeling of having nine or ten infielders instead of the six that will be there.
Infielders (6): Willy Adames, Mike Brosseau, Yandy Diaz, Brandon Lowe, Yoshi Tsutsugo, Joey Wendle
Outfielders
Having a 14-member pitching staff means you've got a short bench, and there will only be four true outfielders to begin the year.  Fortunately, the Rays have an outfielder that can play all three outfield positions, two others that can both corner outfield positions, and perhaps the best defensive center fielder in the game.
Outfielders (4): Randy Arozarena, Kevin Kiermaier, Manuel Margot, Austin Meadows
Injured
Most of the injuries the team is dealing with to start the year involves pitchers that are coming back from surgeries they had in 2020, but two position players will end up beginning the year on the 10-day injured list. We'll see how long it is before Ji-Man Choi and Brett Phillips are able to return, and how that will affect the roster setup.  But that won't come until after the season begins.
10-day injured list (2): 1B Ji-Man Choi, OF Brett Phillips
60-day injured list (5): RHP Nick Anderson, LHP Jalen Beeks, RHP Yonny Chirinos, RHP Oliver Drake, LHP Colin Poche