With Spring Training on the horizon, many of the major outlets are releasing their 2021 predictions for the Tampa Bay Rays and the other teams across Major League Baseball.  As expected, many of the outlets are predicting that the defending American League champions will take a step back from their World Series appearance in 2020.
PECOTA
Baseball Prospectus put out their annual PECOTA (Player Empirical Comparison and Optimization Test Algorithm) projections on February 1, and have updated them a handful of times since the initial release, though the predictions have not altered much for the Rays.  As of February 15, Tampa Bay is projected to win 87 games and finish second in the American League East behind the New York Yankees.

USA Today
The folks at USA Today released their 2021 predictions Monday, and while they don't get into the analytics nearly as much as the people at Baseball Prospectus, their projections turned out to be quite similar.  A six-member panel worked on win totals for all 30 teams, and they placed the Rays with 88 victories, and like PECOTA, a second place division finish behind New York and just ahead of the Toronto Blue Jays.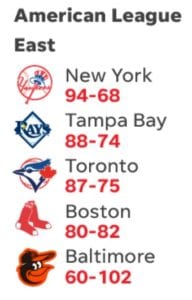 Fangraphs
While Baseball Prospectus and USA Today have similar outcomes in their predictions, the folks at Fangraphs are much more critical of the Rays' moves during the offseason, and have adjusted their projections downward because of them.  Tampa Bay is predicted by Fangraphs to finish just above .500 at 82-80, and finishing fourth in the American League East, ahead of only the Baltimore Orioles.